Fibreglass Flat Roofing in the Wye Valley, Raglan & Usk.

Glass Fibre Specialists are the experts of choice in South Wales when it comes to installing fibreglass flat roofing.

We have the expert knowledge to install durable, long-lasting fibreglass flat roofs for your garage, balcony, dormer roof or large extension roof. All of our fibreglass products come with an insurance backed guarantee which will cover your fibreglass roof installation for up to 20 years.
So what is Fibreglass Roofing ?
Fibreglass was first developed in 1938 by Owens Corning in the USA. Originally it was intended for use in insulation, and nowadays it is used for a variety of different purposes. The first Fibreglass Flat Roof in the UK was installed around 1978.

Fibreglass roofing can also be called GRP Roofing (Glass Reinforced Plastic), and it is extremely versatile as well as being hard-wearing and waterproof.

Fibreglass Roofing is perfect for use as a roofing material. Fibreglass Roofing can be made in a variety of different colours and can also have special finishes such as a non-slip surface.
How long will my roof last ?
A great deal of research and development has been carried out over the years and studies have estimated that they can last somewhere in excess of 50 years. This is backed up by the fact that many glass fibre laminates that were manufactured in the 1940's, are still in use today. Research has shown Fibreglass doesn't really deteriorate, in fact in the tests that have been carried out, it has remained in the same condition throughout.
Your Fibreglass Flat Roof can be manufactured in a range of different colours, with something to suit everyone's needs. Simply call us to discuss your particular requirements.
The benefits of Fibreglass Flat Roofing
Most importantly, there are a number of health and safety benefits to installing a Fibreglass Roof. Fibreglass Roofing is 'cold-laid' (this means that they do not require any type of heat treatment and can be laid as they are).
Fibreglass Roofing is very durable and 100% waterproof, this is far superior to other materials that may have been traditionally used for flat roofing. As the Fibreglass Roof is one huge membrane, there is no need for seam joints or welds, along with the consequential maintenance.
Fibreglass Roofing is entirely UV resistant.

Fibreglass easily allows for new features such as balconies or a walkway on the roof area or even roof lighting. Your Fibreglass Roofing can be formulated with special fire-retardant resins and topcoats.
Finally, the largest benefit of having a Fibreglass Roof installed is that it will remain leak-free for life. The end result can look; however, you choose, as the surface and colour of Fibreglass can be altered to suit your requirements.

You could choose a smooth or textured finish, as well as choosing from a wide array of different colours.
We install our Flat Roofing in Raglan, Crickhowell, Lydney, Usk, Coleford, Bath, Bristol and Tetbury.

If you require Fibreglass Flat Roofing in the Wye Valley or surrounding areas contact Glass Fibre Specialists today. Please call 01633 223371 or complete our contact form to get a quotation.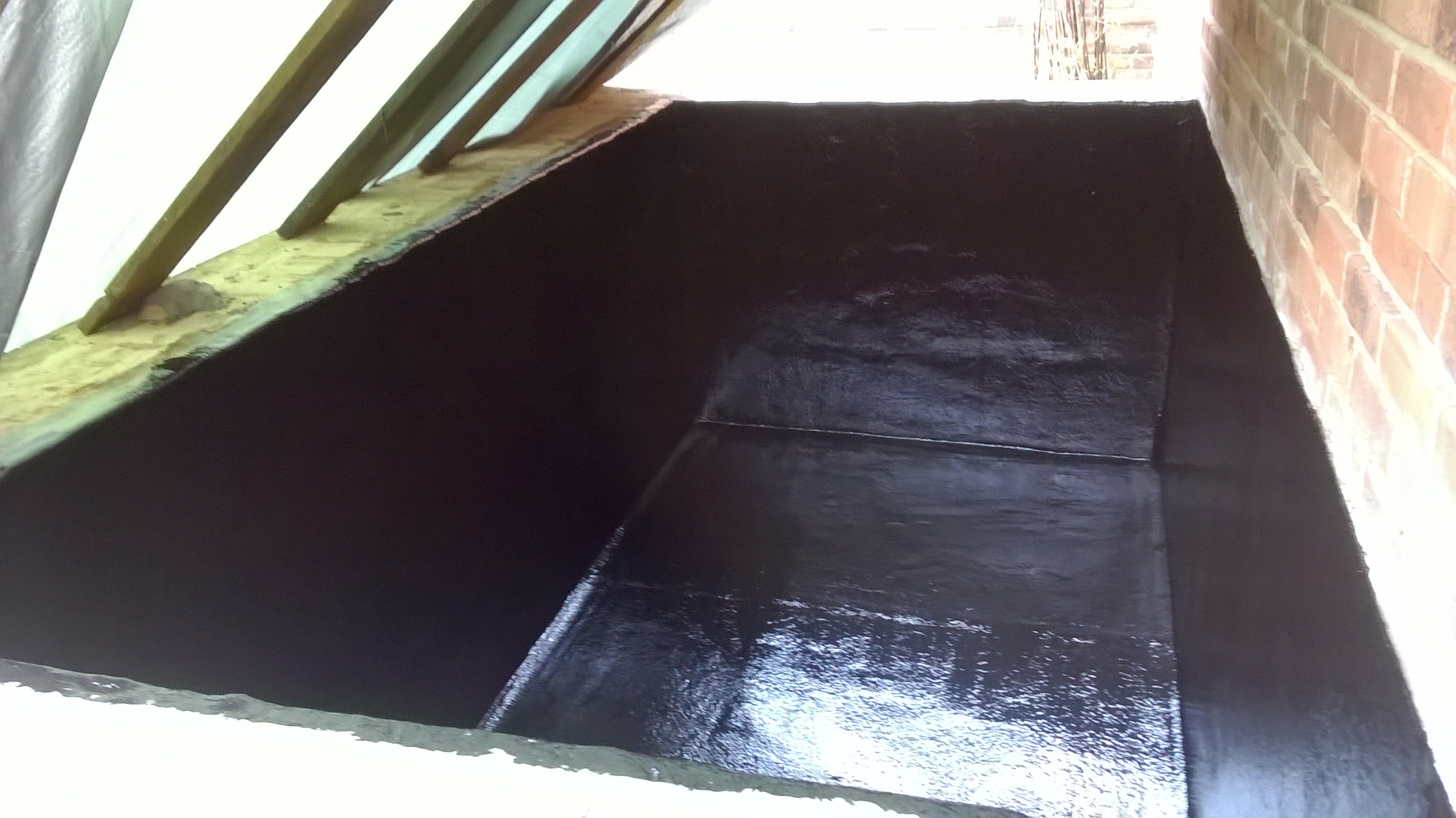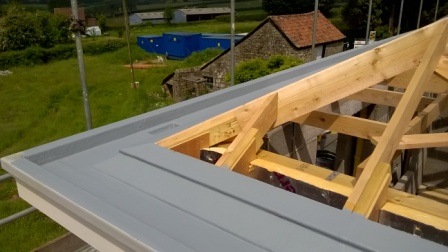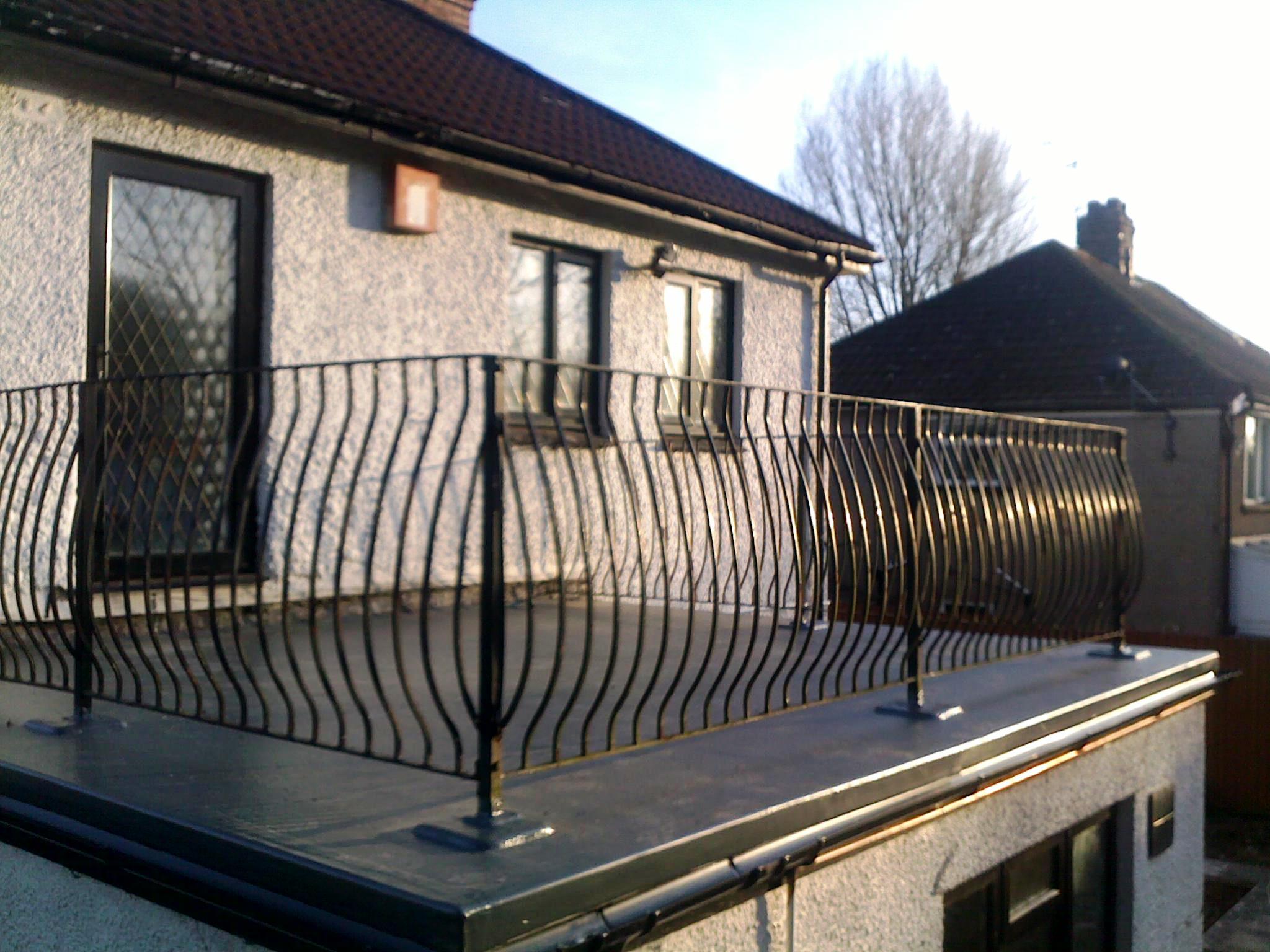 Is Fibreglass Roofing Better than Felt?
Usually, fibreglass flat roofing lasts longer than felt, and even though they are more expensive, they may be saving you more money in the long run. If the felt isn't fitted to a high standard, then loads of problems can evolve, such as leaks, water pooling, and the felt itself deteriorating. This will cause expensive repair bills and often replacements.

Fibreglass flat roofing is much safer to install than felt, as you need to use a flame to install the felt. The fibreglass flat roof also comes with longer guarantees than felt, and they are highly durable, meaning they can withstand harsh weather conditions. Fibreglass flat roofing is highly recommended; however, if you would like some more advice, please contact us today.
What is the Cost of a Fibreglass Flat Roof?
The cost of fibreglass roofing will depend on the company you choose, and also the size of your roof, which is usually measured per square metre. Fibreglass roofing is expensive; however, it lasts a long time, and you definitely get your money's worth. You may need to change the structure of your roof to ensure the fibreglass can be done.

The average cost of fibreglass roofing is from £70-£140 per square metre of your roof. If you would like a free quote, or to find out our specific price list, please don't hesitate to get in contact with us today, with no obligations. We provide exceptional and professional services at extremely competitive prices.
Is Fiberglass Waterproof?
Yes, fibreglass roofing is waterproof, as it has an absorbent cloth that soaks up the water. However, it is essential to ensure enough resin is coated onto the fibreglass, as otherwise water absorption may be prevented. This is because the resin covers the pores, which are the tiny holes that prevent water absorption.

This is why is it so important to have a professional do the job, to ensure enough resin is coated, and also to ensure you won't have leaks or repair bills due to your roof not being waterproof. If you have any further questions, please don't hesitate to get in touch with us.
If you require Fibreglass Flat Roofing in the Wye Valley or surrounding areas contact Glass Fibre Specialists today. Please call 01633 223371 or complete our contact form to get a quotation.