Fibreglass wales. Flat roofing & pond Lining

www.fibreglasswales.com are specialists in GRP flat roofing and pond lining in South Wales & the South West. All of our work is installed with top quality workmanship to guarantee a durable, long lasting roof flat roof or pond. Fibreglass (GRP) flat roofing is suitable for garages, balconies or extension roofs. All of our work is supplied with an insurance backed guarantee for maximum peace of mind.
We believe in offering an honest and reliable service to all of our customers, regardless of the size of the project. Over the years we have installed roofs & pond linings all over South Wales and built an excellent reputation for our quality work and professional attitude. If you have any questions about our services, or would like to arrange a quotation, we are more than happy to help at 01633 223371. Please bear in mind that due to the nature of our work, we may not be able to answer straightaway. If you leave a message with your name and number we will endeavour to reply as soon as possible.
We work in: Newport, Bristol, Crickhowell, Tintern, Penarth, Bath, Caldicot, Tetbury, Usk, Raglan, Pontypool, Cardiff, Swindon & Abergavenny.

GRP Flat Roof Systems
GRP flat roof systems are extremely popular in domestic applications such as garages and extensions. Because of the lack of pitch on some flat roofs, they can be prone to rainwater build up and other issues if not maintained properly. GRP is one of the best materials because of it's inability to absorb water- particularly useful in rainy Wales. By making sure you only work with experienced professionals, you can save yourself hassle, money and stress for the future. We work with a meticulous eye to detail.
Over the years a steady portion of our work has been repairing or replacing incorrectly installed flat roofs. If required, we will remove all your existing roof down to the joists and install new insulation. You can count on us to provide you with the best quality components to ensure your roof lasts for years to come. We will screw fix the decking carefully and ensure a smooth surface for the application of the GRP membrane. We aim to Fibreglass Wales and beyond.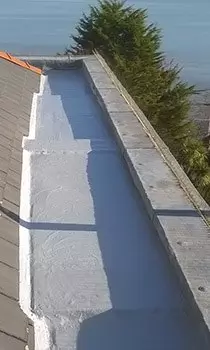 Benefits of Fibreglass Roofing
One of the main benefits of fibreglass flat roofing is its nonabsorbency. The compound was introduced to UK in the 1940s, originally intended for insulation. In the early 1980's people began to notice its advantages over existing flat roofing materials such as asphalt and felt. Glass Fibre has since grown to be the preferred material for many flat roofing applications.
Safer Installations: GRP flat roofing membranes can be installed without any gas bottles, burners or flame throwers, these are needed for torch-on felt and asphalt. A fibreglass flat roof installation dramatically reduces the risk of fire and other accidents on site.
Durability: If installed correctly with high quality materials, a fibreglass flat roof should have a life expectancy of over 25 years, offering excellent value for money.
Flexible and Versatile: They can be installed to suit any shape and size of roof. The trim can be adapted to suit a variety of roof builds and the top coat finish is available in a variety of colours.
Waterproofing: GRP fibreglass roofs are laid as a single, uniform layer. The lack of seams and welds means it's resistance against leakage is significantly increased.
Easy to Repair and Maintenance Free: Unless the entire roof structure has failed, almost all damage can be repaired. To keep it looking smart and to keep the surface clean, you just spray it with a garden hose, add a bit of washing up liquid and sweep away any dirt or debris.

GRP Flat Roof Costs
If you are interested in having a GRP fibreglass flat roof installed by one of the first pioneers of fibreglass flat roofing in South Wales, we are more than happy to provide a free, no-obligation quote. Over the years, we have always exceled in providing a professional service with competitive pricing. We have built an excellent reputation for our efficient and friendly attitude. Most of our work comes from the recommendation of our previous customers.
One of the common questions people ask is the cost of a GRP flat roof. This can vary depending on the size of the roof, the finishes chosen and the quality of materials. We will always recommend the best quality materials in a quote, even if it's not the cheapest & we treat every project with the utmost care and attention. Please bear in mind that if installed correctly, a fibreglass flat roof can provide well over 25 years of stress free, reliable service, our system can offer excellent value for money.
All of our work comes with a QANW Insurance backed warranty guarantee for maximum peace of mind.
Fibreglass Flat Roof Repairs Cardiff.

www.fibreglasswales.com are also experts at carrying out fibreglass flat roof repairs in Cardiff, Newport, Bath, Bristol and across all of South Wales & the South West. Even though our work is weather sensitive, we aim to respond to an emergency as soon as possible.
A leaking roof is not only costly to repair on its own, but if left alone, can cause damage to the contents of the room and also damage the structural integrity of the building.
GRP fibreglass is a durable material and if maintained properly, can offer excellent value for money for years to come. One of the appeals of a fibreglass flat roof is it's ease of maintenance and repair. In the case of very unlikely tears and punctures to the roofing mebrane, give your local experts a call on 01633 223371 and we will be able to assess the damage and recommend a long-term remedy.
GRP Fibreglass Pond Lining
GRP, or more commonly referred to as fibreglass, is an excellent compound for waterproofing structures. It's uses span from flat roofing, pond lining to repairing boats. www.fibreglasswales.com have worked with all nature of fibreglass applications throughout our years of service. We can offer advice on the best pond lining or koi carp pond lining solution for yourself based on our extensive experience in the industry.
GRP is a flexible material which can be moulded to any shape and size, which is why it's the preferred choice for lining koi ponds and garden pools. Fibreglass can provide a smooth and hard wearing surface which is durable and easy to clean. The versatility of this material means there are zero limitations to your design. We always prime the surface of the pond in preparation for the installation.
We can recommend the top coat colour finish for your pond or pool, which is available in any colour of your choice. For koi carp, wildlife ponds or other water features we would recommend a black or dark green. This helps to soothe the fish and reduce algae growth,
GRP Pool and Pond Lining Installation
www.fibreglasswales.com are specialists in GRP pool and pond lining installations. The durability and application of glass fibre makes the product ideal for pond linings. Unlike other lining systems, fibreglass can be moulded to fit any shape or size pond. GRP (fibreglass) is laid as a single, uniform layer without seams, which makes it less prone to tears and leakage. Fibreglass will also not puncture or deteriorate when exposed to sunlight, reducing the efforts required in maintenance.
Prior to installation, we will prime the pond and any pipes and drains. We will ensure each layer of of the lining is uniform in thickness and inspect for thorough coverage before adding the next layer. We take meticulous care in performing our work so you get the best quality installation and life long enjoyment from your investment.
www.fibreglasswales.com
- Glass Fibre Specialists Flat Roofing Systems.
Wishing Well Cottage, Wern Ddu Farm
South Wales
NP20 5EJ.